Mary our Mother – Queen of Heaven
Apparitions of the Blessed Virgin Mary
One of the most powerful prayers is the Holy Rosary. It is not just for Catholics but for all Christians and all people of good will.
The Holy Rosary offers us a summary of the Gospel and leads us, in an easy and accessible way to prayer from the heart.' St. Pope John Paul II
'I will put enmities between thee and the woman, and thy seed, and her seed: she will crush thy head, and thou shall lie in wait for her heel'. Genesis 3:15 (Douay-Rheims)
Some Bibles say, 'one of hers will strike at your head, while you will strike at their heel,' like a game of ping pong. NO! The 'woman' of Genesis 3:15, will have the final victory over the serpent (Satan). She will CRUSH his head. Which woman?
'And a great sign appeared in the heaven: a woman clothed with the sun, and the moon under her feet, and on her head a crown of twelve stars.' Revelation 12:1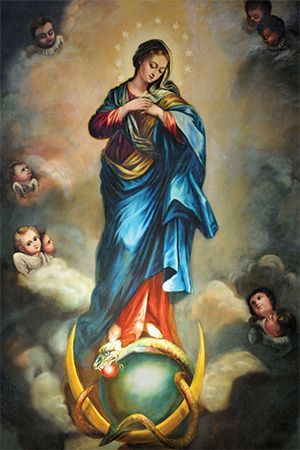 Pope Leo XIII's vision – 1884
Rome Italy 1884
Pope Leo XIII was a Marian Pope and during his papacy he wrote twelve Encyclicals on the Holy Rosary. He was also an astute observer of the times and over one hundred years ago declared, the world was being swept by "the whirlwinds of an age of error." Tradition has it that at the end of a private Mass Pope Leo fell down as if dead. When the pope came to, he described a terrifying vision of demons surrounding the Vatican, and a conversation between God and Satan. The devil said he could destroy the Catholic Church, but he needed more time and more power. How long…. seventy five to one hundred years. He chose the 20th century.  Why would God allow this? Is this a final test, not the end of the world but the end of an era? Pope Leo rushed to his study and composed the Prayer to St. Michael. This powerful prayer beseeching St. Michael's protection was prayed at the end of each low Mass, right up until 1969.
St. Dominic, St. Francis, and St. Angelus – 1208
St. Dominic, St. Francis, and St Angelus had never met, but in 1208, they crossed paths in Rome and immediately recognised each other. Their meeting is marked by a plaque in the nearby Basilica Santa Sabina. St. Angelus, a Carmelite, prophesised that St. Francis would receive the stigmata. St. Dominic prophesised that Our Lady would give the scapular to the Carmelites, and Our Lady would give his Order, the Holy Rosary. St. Dominic also said,
'One day, Our Lady would save the world through the Rosary and the Scapular.'
APPARITIONS
There are so many incredible apparitions of the Blessed Virgin Mary, but we chose to concentrate on the more well-known ones.